Personalized Birth Keepsakes
Castlemere is proud to present HERON FINE CHINA of England, creators of personalized Bone China giftware. Each keepsake is completed with care, using the traditional skills of Hand Gilding and Enamelling. As a special touch, your keepsake gift is shipped from England directly to the person to whom you are presenting the gift. A delightful surprise! A card will be sent to the recipient notifying them that a special gift from you is on its way and will arrive within 3 to 4 weeks. Each keepsake is personalized and makes a perfect commemorative birth gift or christening gift; an elegant addition to baby's room to be treasured for a lifetime. See all collections.
Please Note: Order must be received by November 22 for Christmas Delivery.
THE CHRISTMAS COLLECTION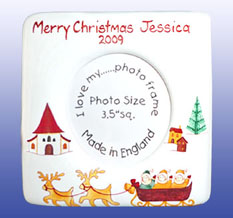 Christmas Photoframe
"Merry Christmas" and the child's name, or the child's name followed by "1st Christmas". The Christmas year will show underneath. All are hand lettered in enamel color at the top of the photoframe. A maximum of 20 letters is allowed for the child's name.
Photoframe is 5.5" x 5.5"
Christmas Photoframe
H01047 $14.95
This text hidden This text hidden This text hidden This text hidden This text hidden
- - - - - - - - - -