Children's Classics and All Time Favorites
Charlotte's Web and Stuart Little
Renowned Artist Rosemary Wells has lovingly added delicate watercolor to the original black-and-white drawings by Garth Williams in E.B. White's Charlotte's Web and Stuart Little Collector's Editions. Larger format, 7" x 10". Hardcover Chapter Books. All Ages.
Charlotte's Web
HC2983 $24.95
Our Price $21.21
Stuart Little
HC2975 $24.95
Our Price $21.21
- - - - - - - - - -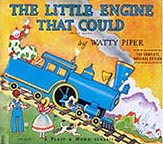 The Little Engine
That Could
The Complete Origininal Edition of this classic story cotinues to enchant yougsters as they hear the about the little blue engine that pulled the cars filled with toy animals, dolls and toys over the mountain when other engines wouldn't help the train that had broken down. Hardcover Picture Book. Ages 3 - 5.
PP5209 $8.99
- - - - - - - - - -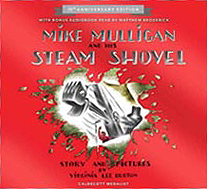 Mike Mulligan
and his Steam Shovel
The classic story of a faithful Irish steam shovel artist and his steam shovel, the beguiling Mary Anne, whom he would not desert even though newer gas and diesel powered shovels were taking business away from him. Virginia Lee Burton's timeless story was first published in 1939. Free download of Audiobook.
Ages 5-8.
HM9926 $17.99
Our Price $15.29
- - - - - - - - - -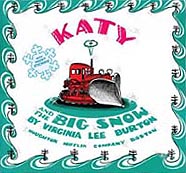 Katy and the Big Snow
Katy the Snowplow was always waiting for her big chance to help. But with winters that usually didn't hold a lot of snow, Katy didn't have much opportunity to shine. Then a blizzard blankets the city and everyone is relying on Katy for help digging out. Children love sharing Katy's shining moment of glory and will inevitably admire her "chug, chug, chug" endurance. Hardcover Picture Book.
Ages 3 - 6.
HM1553 $16.00
Our Price $13.59
Katy and the Big Snow (Paper)
HM5629 $6.99
- - - - - - - - - -
Children's
Poetry Treasury
Jack Prelutsky has selected over 200 short, fun-to-read poems by 137 outstanding poets of the 20th Century. Arranged by topics, such as sports, sibling rivalry, outer space, food fights and building skyscrapers, Every poem seems to burst from the page with the lively art of Meilo So. This is an enticing collection of a century of children's poetry.
Ages 5-10.
RH3148 $19.95
Our Price $16.96
- - - - - - - - - -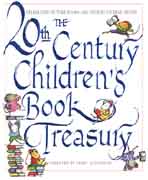 Children's Book Treasury
An amazing 308 pages containing 44 read-aloud classics with their original illustrations. Included are old favorites such as, Make Way for Ducklings, Frog and Toad, Amelia Bedelia, and Bedtime for Frances. More recent selections included are, The Stinky Cheese Man, Good Night Gorilla and Guess How Much I Love You. Each selection is color coded to indicate the appropriate age level. Biographical notes are included for each author and illustrator. A perfect treasury to start your child's book collection and a great addition to the family library! Edited by Janet Schulman.
Ages 2-8.
RH6478 $40.00
Our Price $34.00
- - - - - - - - - -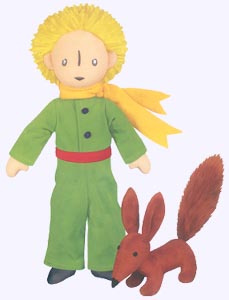 Little Prince and Fox
Plush Doll
Little Prince is ready for an out-of-this world adventure. With yellow yarn hair and an embroidered face, he's ready for interplanetary travel in his removable classic green jumpsuit with red grosgrain ribbon belt and his soft fleece scarf. The wise Fox, made of soft velboa and a furry plush tail, remains loyally by his side, attached with a velcro tab and loop that keep these cosmic characters connected. Little Price is 12" tall.
YT0587 $25.95
- - - - - - - - - -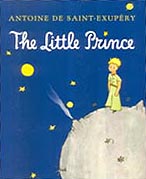 The Little Prince
Few stories are as widely read and as universally cherished by children and adults alike as The Little Prince. Richard Howard's new translation of the beloved classic--published to commemorate the 100th anniversary of Antoine de Saint-Exupéry's birth--beautifully reflects Saint-Exupéry's unique and gifted style. Howard has excelled in bringing the English text as close as possible to the French, in language, style, and most important, spirit. The artwork in this new edition has been restored to match in detail and in color Saint-Exupéry's original artwork. Hardcover Chapter Book w/Color Illus.
Ages 8 & up.
HM3980 $20.00
Our Price $17.00
- - - - - - - - - -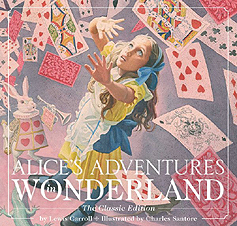 Alice's Adventures
in Wonderland
This beloved children's classic bursts with never-before-seen full-color artwork from New York Times best-selling illustrator Charles Santore. Complete with three breathtaking gatefolds, this classic edition promises to be the next must-read bedtime story, creating new traditions for the whole family. Children, parents and grand-parents alike will share in this new addition to the family bookshelves. Hardcover Picture Book. All Ages.
SS7112 $19.95
Our Price $16.95
- - - - - - - - - -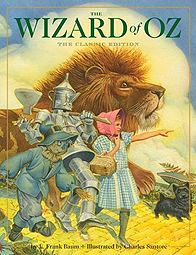 The Wizard of Oz
With stunning illustrations from celebrated artist Charles Santore and a child-friendly, abridged retelling that remains faithful to Frank L. Baum's original text, this Classic Edition of The Wizard of Oz is a must-have for every family's library. Readers of all ages will follow the Yellow Brick Road on an unforgettable journey that takes them from Dorothy's gray Kansas home into the blue Munchkin land; the sparkling bejeweled Emerald City; the dark, foreboding forest; and the ruby-red throne room of Glinda the Good Witch in this gorgeously illustrated, classic edition. Hardcover Picture Book. Ages 5 - 9.
SS5422 $19.95
Our Price $16.95
- - - - - - - - - -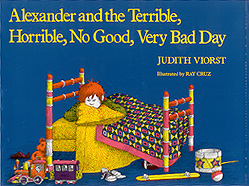 Alexander and the
Terrible, Horrible, No
Good, Very Bad Day
He could tell it was going to be a terrible, horrible, no good, very bad day. He went to sleep with gum in his mouth and woke up with gum in his hair. When he got out of bed, he tripped over his skateboard and by mistake dropped his sweater in the sink while the water was running. He could tell it was going to be a terrible, horrible, no good, very bad day. Ages 5 - 8.
SS0727 $16.95
Our Price $14.44
- - - - - - - - - -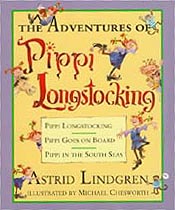 The Adventures of
Pippi Longstocking
An enticing, newly illustrated collection of the enduringly popular Pippi stories. Since Pippi Longstocking was first published in 1950, the escapades of the incomparable Pippi,the girl with upside-down braids and no parents to tell her what to do, have delighted boys and girls alike. Now, for the first time, Pippi Longstocking, Pippi Goes on Board, and Pippi in the South Seas are all together in one volume, with new illustrations in full-color and black-and-white. The collection is an ideal introduction for anyone discovering Pippi for the first time. Also included is new biographical information about author Astrid Lindgren and the origin of the Pippi stories. Hardcover Picture Book. 290pp. Ages 7 - 10.
PP6129 $30.00
Our Price $25.50
- - - - - - - - - -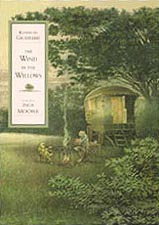 The Wind in the Willows
Inga Moore's exquisite art brings to life the English country-side where Kenneth Grahame's beloved Toad, Mole, Rat and Badger live along the river. Here are the most treasured moments from THE WIND IN THE WILLOWS - Mole's first enraptured row on the river, Toad's irrepressible adventures in and out of automobiles, and many more. So gather round to read or listen, and, as Mole and Rat would heartily agree, a fine time will be had by all.
CW2428 $22.99
Our Price $19.54
- - - - - - - - - -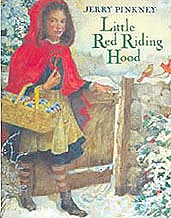 Little Red Riding Hood
In this inspired rendering of the classic Grimm Brothers folktale, five-time Caldecott Honor winning artist Jerry Pinkney introduced two favorite children's characters to a new generation: the sly, scary wolf and the sweet little girl in her famous red hood. Readers will squeal with delight all over again during that most memorable scene when Little Red Riding Hood declares, "Oh, Grandmamma, what great teeth you have!" Hardcover Picture Book. Ages 7 - 11.
LB3552 $16.99
Our Price $14.44
- - - - - - - - - -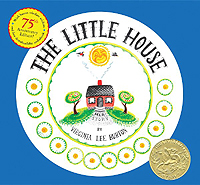 The Little House
A country house is unhappy when the city, with all its buildings and traffic, grows up around her. But somehow the little house finds a way to escape the city. In celebration of this beloved classicxs seventy-fifth anniversary, this special edition features a beautiful set of window cling stickers?perfect for decorating your own "Little House"?and free downloadable audio (access code printed inside the book). Hardcover Picture Book. Ages 7 - 8.
HM1943 $17.99
Our Price $15.29
- - - - - - - - - -
Aesop's Fables
In this elegantly designed volume, more than sixty of Aesop's timeless fables have been carefully selected, humorously retold, and brought gloriously to life by four-time Caldecott Honor-winner Jerry Pinkney. Included are the Shepherd Boy and The Wolf, the Lion and the Mouse, the Tortoise and the Hare, plus many other characters - and morals - that have inspired countless readers for centuries. With more than fifty magnificent full-color illustrations, this handsome edition is a must for every bookshelf. Hardcover Picture Book. All Ages.
CB0003 $19.99
Our Price $16.99
- - - - - - - - - -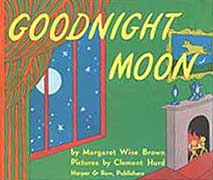 Goodnight Moon
In the great green room little rabbit is getting ready for bed. Margaret Wise Brown's Goodnight Moon has been a favorite bedtime story for over sixty years. Hardcover Picture Book. Ages 1 - 6.
HC5858 $18.99
Our Price $16.14
- - - - - - - - - -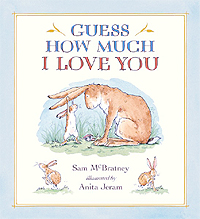 Guess How Much
I Love You
"Guess how much I love you," says Little Nutbrown Hare. Little Nutbrown Hare shows his daddy how much he loves him: as wide as he can reach and as far as he can hop. But Big Nutbrown Hare, who can reach farther and hop higher, loves him back just as much. Well then Little Nutbrown Hare loves him right up to the moon, but that's just halfway to Big Nutbrown Hare's love for him. Hardcover, Picture Book.
CW4489 $16.99
Our Price $14.44
- - - - - - - - - -
Find More Favorite Collections - - - Click Below